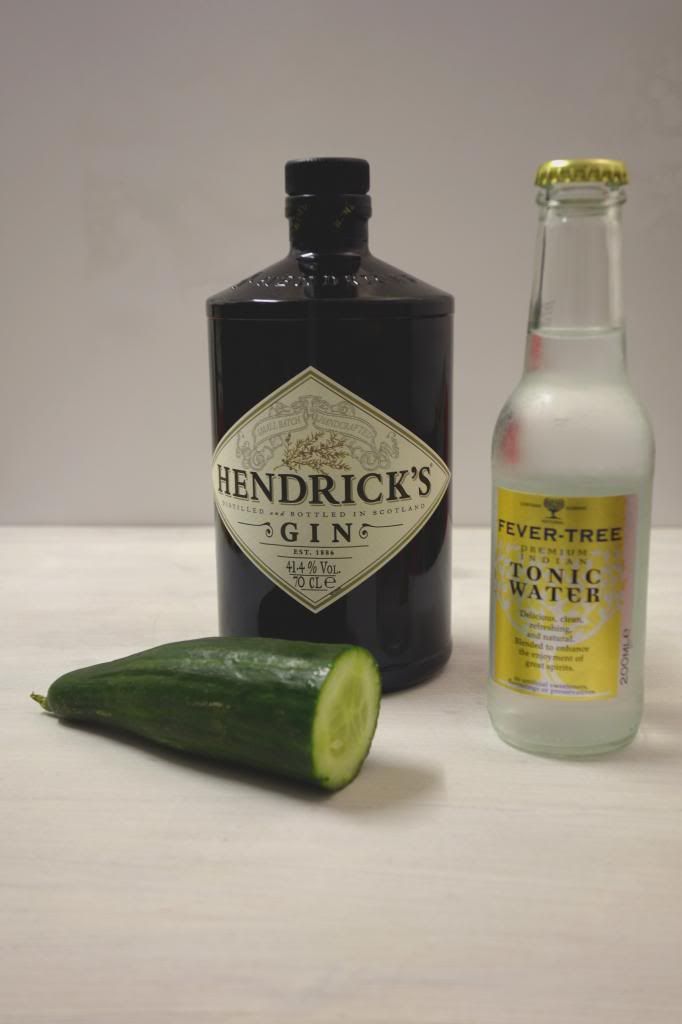 I am quite aware of the fact that you probably think that you don't need a recipe for gin + tonic, as it is really easy to just throw together without any directions at all.
But a gin + tonic has become one of my favorite drinks over the last weeks/months, if not my favorite, and as I learnt from my uncle, there are still a few things you have to get right for a great gin + tonic.
If you are anything like me, you buy quality ingredients when you think it matters, and in other cases you buy the cheapest you can find. I'd never buy the cheapest wine (although I also don't spend a ton of money on a bottle) because I know the cheap ones are barely drinkable. But when it comes to spirits, I just go out and buy the cheapest bottle I can find. It had never occurred to me that the different brands of gin actually vary in quality. Duh.
But as I mentioned before, I talked with my uncle about gin and the different brands and their flavor and he suggested I try Hendrick's gin, and I did go out to buy a bottle.
Hendrick's gin is flavored with cucumber and rose, in addition to the traditional juniper. And the difference in taste compared to the generic brand gin is amazing. It is less harsh, almost delicate and the flavor is complex, with the cucumber and rose showing through lightly. No wonder Hendrick's Gin was named Best Gin in the World by the Wall Street Journal in 2003.
So now that you have spent quite a bit more cash on a bottle of gin that you used to, you don't want to use any cheap tonic water either. But spending the extra money on a bottle of tonic is really worth it, too. For the sake of research I had to compare to versions of gin + tonic, one made with a generic brand of tonic that I bought at Migros, the Swiss supermarket, and the other made with a tonic made by
fever-tree
, a British tonic I bought at a store here in Bern. (If you are interested in buying this particular tonic as well, the link to fever-tree actually leads to the availability page. They do sell them in the States, though I don't know how easy they would be to find)
The generic tonic was a lot sweeter than the fever-tree tonic, less bitter too (and bitter is good). The fever-tree tonic water is a lot more subtle and fresher, with more herbal flavor than just sweetness like the generic brand tonic.
As a result, the gin + tonic with the fever-tree tonic was less sweet and had a more complex flavor, just add a slice of cucumber and you have the perfect gin + tonic.
Perfect Gin + Tonic
Note: The addition of black pepper in the gin + tonic you see here was a suggestion of a friend. I found that it did not really add anything except when you actually bite into the pepper, which is not something I'd do with a drink normally. I say skip it, or add it just because it looks kind of nice)
per glass (I use a tumbler, for a small gin + tonic. I'd rather have two small ones instead of a large one)
1 oz of Hendrick's Gin (more or less, depending on how you like it)
tonic water, like the
fever-tree brand
ice cubes
1 slice of cucumber
Add a few ice cubes into your glass. Pour the gin over the ice. Fill the glass with tonic water. (Taste test if the ratio of gin to tonic is right for you and try to remember how you'd want to adjust the next time you make one). Add the slice of cucumber and enjoy.