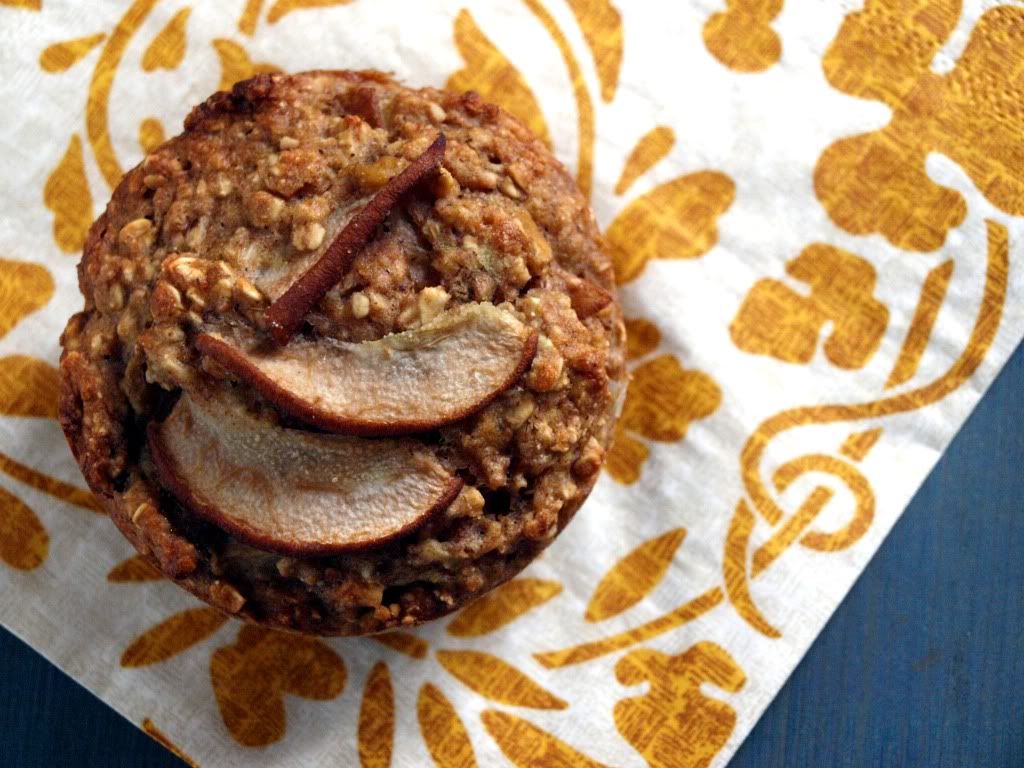 These are really healthy muffins. But I thought I couldn't say this in the title, or else you would run off.
But, please, give me a few seconds (or minutes, rather) to tell you about these muffins, and how lovely the are.
This all started with the recipe for Orchard Pear Muffins I found on Tea & Cookies. I was really eager to bake, but did not want to end up with half a pound of butter and sugar in muffin or cake form. Don't get me wrong, I do love these things, but sometimes I just want to bake, but not eat something that sweet. (Am I alone in this?) I found these muffins at the perfect time, and just had to make them. And since I was already baking healthy muffins, why not just leave out the eggs and most of the honey? I ended up with a rather dense muffin, but I loved the flavor, the amount of sweetness was quite right and they were great in the morning with a bit of
Salted and Honeyed Brown Butter Spread
(is it wrong to share a recipe for a healthy muffin and then link to this heavenly spread? Make that too, just give it away after you tried it. Only keep a little for yourself)
But I knew they could get better. I tried again today, and I think the ratio between the wet and the dry ingredients is better now. (The picture above is a muffin from the first batch, btw) I also swapped the pears for apples, since I found the flavor of the pear got lost somehow, in my opinion the apples work better here. But feel free to resubstitute pears here.
Back to these muffins. They taste like oatmeal to me. Oatmeal in muffin form. They have a crackly crust, are still rather dense (because I used flour low in gluten), have great layers of texture with the chewy oats, the soft apples and the quite crunchy millet. I really enjoyed them for breakfast or as a snack.
Oh, and I forgot to mention that I make the "applesauce" for these muffins from scratch. Exept, it isn't really difficult or time consuming, and I dont even know if you can call these coarsely mashed apples applesauce. I don't care, I'm crazy like that, and I guess you could use storebought applesauche instead of the whole apples I instruct you to use in the recipe. But really, if you let the apples simmer while you prepare dinner, you can totally make the muffins right after you had said dinner.
Apple (Oatmeal) Muffins
Ingredients:
2 apples, diced (or about 1 cup applesauce)
2 tsp baking powder
1 tsp baking soda
1 tsp ginger (powdered and dry)
1 tsp cinnamon
180g spelt flour (I used part spelt part rye flour because I ran out of spelt)
70g rolled oats
30g millet
1/2 tsp salt
120g yogurt
4 tbsp maple syrup (or honey, molasses, etc)
100ml milk + a generous squirt of lemon juice
1 apple, diced
Put your diced apples (I don't peel them, just cut out the core and then cut them into small pieces) in a small pan with just a bit of water. Cook on medium heat until the apples are soft, about 20 minutes. Let them cool down a bit, then mash them with a fork. This really doesn't have to be that smooth, I wouldn't use a food processor, (just because I don't want something more to clean up). Set aside.
Preheat the oven to 180°C. Prepare your muffin pan, line with muffin liners (if you don't have silicone cups).
Measure out all the dry ingredients into a mixing bowl. Mix well, then add the wet ingredients. Mix until the batter just comes together. (I have no idea if overmixing is that bad with these kinds of flours, but just don't do it, okay?) Spoon batter into the muffin cups, put in the oven and bake for about 20 minutes.